Student Plaza's Information
Contents
○What is Student Plaza?

The Student Plaza is a place for students to meet and interact with one another. It is also the place where the various student support offices at HU are concentrated to offer integrated student support. Moreover, it is set up for transforming itself into a "student-participatory university" that utilizes suggestions and voluntary activities from students for university management.


When click this image , Google Street View around Student Plaza is displayed
---
〇List of windows
Main inquiry contents

Floor

Person in charge

Time

Lost and found,How to post a poster,How to use the Tada-copy

1F

General Reception

(Student Plaza PA)

9:00~19:00

Education and Learning Consultation,Consultation on learning of each subject in liberal arts education

Center for Academic Practice and Resource

Refer to the link

Study Abroad Advising Booth

Refer to the link(Japanese)

Job hunting,Internship,Career Consultation, PA (Phoenix Assistant)

2F

8:30~17:15

Study abroad Consultation,Overseas dispatch,Study abroad support

Global Initiatives Group

Supporting students with disabilities, Developing accessibility leaders

Refer to the link(Japanese)

Scholarship, Tuition and admission fee exemption

※Click here for financial support

3F

Student Services Group

8:30~17:15

Extracurricular activities, Volunteer activities, Student dormitories, Use of facilities such as gymnasiums, GAKKENSAI, Consultation desk for anything

International exchange, support for international students

Global Initiatives Group

1F Free Space / 4F Multipurpose Room Reservation

Education Support Group

Mental health consultation, Counseling / Student consultation, Psychological counseling for international students

4F

Refer to the link(Japanese)

Consultation on anything for students, by students

Refer to the link(Japanese)
---
○
Usage guide
*Opening hours: 8:30 to 19:00 (excluding Saturdays, Sundays, and holidays)
 ※We will inform you of changes in closing hours and opening hours due to long vacations, entrance exams, etc.
*Wireless LAN (HINET Wi-Fi) can be used. Click here for details
*Only light meals can be brought in and eaten (alcohol is prohibited). Please take your trash home with you.
*IH cooking heaters and kettles can be used only from 11:00 to 14:00.
*Reservations are required for the 4th floor multipurpose room. Multipurpose rooms 1 and 2 can be combined into one room by the movable wall. You also need to make a reservation if you want to rent out the free space on the 1st floor.
*If you want to post a poster on the bulletin board on the 1st floor, please be sure to obtain permission at the general reception. After the public relations period ends, please process the bulletin board immediately.
*Tada-copy has restrictions such as the number of copies that one person can copy at one time, so registration for use on a mobile phone is required. Please refer to the leaflet at Tada-copy or the general reception for the registration method.



---
○
Floor map

1F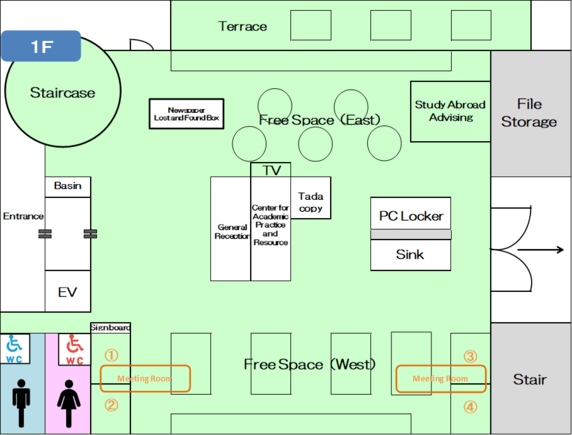 2F
3F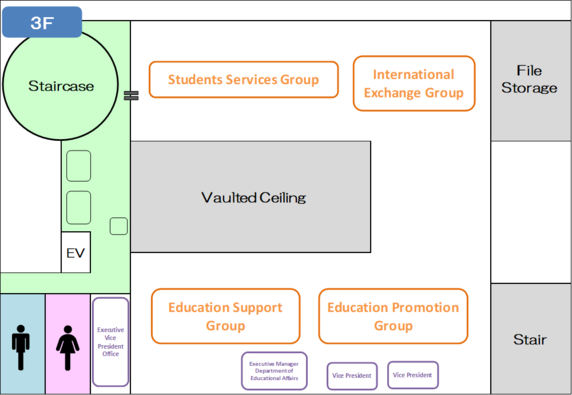 4F

Location:
Student Plaza
1-7-1 Kagamiyama, Higashi-Hiroshima-Shi739-8514 Japan
082-424-4407(Student Plaza, 1F General Reception)
082-424-6181(Anything consultation counter)
  ※Click here for the campus map.
---